Today, in many of the world's worst war zones, hundreds of thousands of people are killed in conflicts fueled by the illegal arms trade. Remarkably, we have strict laws for the global trade of iPods and bananas, but not a single international agreement setting standards for the sale of weapons. Instead, states are left to self-regulate, creating a patchwork of laws that arms smugglers can exploit to get weapons to some of the world's most dangerous people.
At the end of February, talks are being held in New York for the Arms Trade Treaty (ATT), the first ever attempt by countries to come together and set meaningful laws that could dramatically stem the flow of weapons onto the black market. To raise awareness about this treaty, the American Values Network created two ads. The first ad sought to highlight the human toll of illegal arms trade.
The second emphasized the hopes of southern Sudanese pastors for their country and the impact ATT can have on their nascent democracy. Here are the two ads: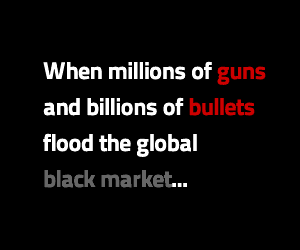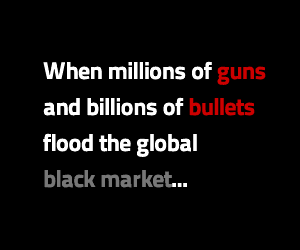 As can be imagined (and as we planned), the first ad has gotten some strong responses. Simply put, the picture of the wailing mother is gut-wrenching. Witnessing raw emotion like that is powerful and strikes a chord deep within each of us, though a discordant one that makes us uncomfortable. It can seem indecent to enter into such a profound and private moment. As such, using this image comes with a responsibility. We're walking a fine line between between enabling someone's voice to be heard and falsely manufacturing that voice.
As we wrestled with this responsibility, and the concerns raised by some we showed it to before running, we found ourselves confronted by our own faith-based mission and the nature of Christian witness. Christians are an Easter people, but we live in a Holy Saturday tension: We inhabit the space between the brutality of the cross and the hope of the empty tomb. Therefore, ours is a dual witness. We witness to the promise that has been given to us, but we are also called to witness the suffering of God's children and bear witness to the places in our world that fall short of God's will for us. The theologian Dietrich Bonhoeffer famously wrote, "only the suffering God can help." What he meant was that part of what makes the Christian narrative so powerful is that at its center is the crucified Christ, the God who identifies with the suffering in our world. As Christians we are called to both witness Christ's suffering and witness to others about its meaning. Since we cannot turn a blind eye from Calvary's cross, we are not allowed to turn a blind eye to unjust suffering in our world.
And while this call forces us to confront hard situations, it is also empowering. Everyday our inboxes fill with pleas from good organizations asking for our support for good causes. It can be overwhelming and so often it seems there isn't any meaningful way for us to have an impact on situations so much larger than ourselves. But our faith teaches us that to be a witness is no small act.
We're seeing the power of this act all across the Middle East right now. Protesters in Egypt were able to peaceably topple a 30 year regime simply by saying, "We will no longer let injustice go unmarked." Their actions were made possible because of what they saw happen in Tunisia. And now protests are spreading to Libya, Iran, Jordan, Bahrain, Yemen. No one can yet see the end of this ripple effect. All because enough people bore witness to injustice and forced a busy world to stop and pay attention. As this experience demonstrates, being a witness can take different forms. For some, it is standing in a crowded square and giving voice to victims of injustice. For others, it is hearing that voice and allowing ourselves to be stirred by it.
That is why we finally decided to make this ad. Because in order for a witness to be effective, it needs ears that are willing to hear and eyes that are willing to see. That is how we take suffering and turn it into a redemptive force in our world. Moral force can trump brute force, but it requires that injustice not be allowed to go unmarked. And it requires that we not shy away from raw pain, whether on the cross or in the eyes of a mother who has just found out her son was killed.
As talks for the ATT get underway, the head of the evangelical churches in Southern Sudan has written a plea to American Christians asking us to join him in a Day of Fasting and Prayer on Feb. 28. He has been joined by the head of all evangelical churches in Africa and a growing chorus around the world calling on those of us who live in peace to witness the consequences of violence. For most of us, the negotiations of an international arms treaty are as far removed from our lives as the genocide in Darfur or the killing fields of Cambodia. But our faith tells us that that does not mean we can remain silent. Our ad is an attempt to stand with the victims of illegal arms trade and say, "your suffering has not gone unmarked; we will be a witness." That was our intent. We'd love to hear what you think.